Scientific programs of Kazakhstan cosmonauts
---
The implementation of scientific programs and experiments in space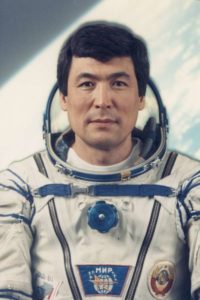 T.O. Aubakirov flight
October 2, 1991 – October 10, 1991 – "Mir" station. Duration – 7 days, 22 hours, 13 minutes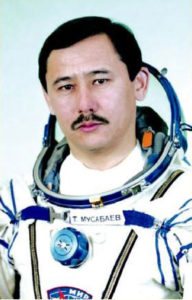 T.A. Musabayev flights
1st flight – from July 1, 1994 to November 4, 1994, ЭО-16 (main expedition) to "Mir" station. Duration – 125 days, 22 hours, 53 minutes, 36 sec
2nd flight – from January 29 to August 25, 1998, ЭО-25 to "Mir" station. Duration – 207 days, 12 hours, 51 minutes, 2 sec
3rd flight – from April 28 to May 6, 2001. ЭП (visiting expedition) to ISS. Duration – 7 days, 22 hours, 4 minutes, 3 sec
– Investigation of the impact of outer space on metal alloys' melting processes under conditions of microgravity. Investigation of physical properties of prospective materials and devices, tissue-equivalent materials, composite materials based on high-temperature superconductors and other multilayer materials based on transition metals, multilayer composite aluminides and modified porous apatites.
– Detection and investigation of fault and failure mechanisms in the memory modules of airborne electronic hardware under conditions of microgravity.
– Investigation of physical processes and optical phenomena in the upper atmosphere and dynamic processes in the mesosphere.
– Investigation of the impact of spaceflight on genes of higher organisms, and on functional, psychological, psychophysical and adaptive capabilities of the astronaut's body.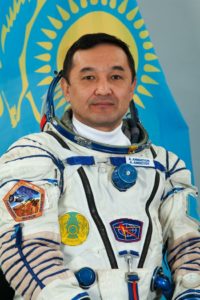 A.A. Aimbetov flight
From September 2 to September 12, 2015. ЭП-18 to ISS. Duration – 9 days, 20 hours, 13 minutes, 51 sec
1. "Korgau" – experimental development of the ground- space system for forecasting, reducing damages and eliminating the consequences from natural and technogenic disasters.
2. "Relaxation-Spectrum" – investigation of the condition and processes in the upper atmosphere above the regions with thunderstorm activity.
3. "Coulombic crystal" – investigation of structures and dynamics of charged particle systems in the magnetic fields under conditions of microgravity.
4. "Aseretu" – research on the impacts of space flight on astronaut's performance.
5. "Content" – remote monitoring of psychophysiological state of the space crew.
6. "Karym-katynas" – investigation of the impact of multinational composition of ISS crew on interpersonal and intergroup interactions.
7. "Capillary blood sampling" – medical investigations.
8. "Dastarkhan-6" – new functional food products with elements of Kazakh cuisine.
9. "Great start" – publicization of the manned spaceflight achievements.
10. "About Gagarin from Space" – open radio communication session between radio amateurs in Almaty city and RS ISS crew.